Old Testament Lessons
Available from Christian Book Distr.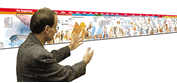 Classroom Bible Timeline, 10 Ft
Keep Bible events straight; on the wall and in your mind! More than 140 important people and events, including 10 key periods of Testamental history; the patriarchs; sojourn in Egypt; Exodus wanderings; judges; Saul, David, and Solomon; divided kingdom; Babylonian exile; Jerusalem rebuilding; life of Jesus; and the lives of the apostles are outlined. Four panels measure 10' x 11" total.
Genesis
Adam & Eve
God's Plan for Families
First Sin
Cain & Abel
Noah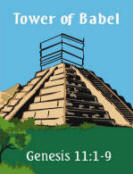 Babel
Abraham & Lot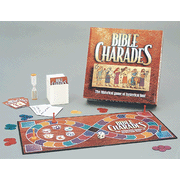 Bible Charades
You've played charades before, but never like this! A new twist on Bible knowledge games that is guaranteed to animate every party, youth group, classroom, or family gathering. Teams of players race around the game board by correctly guessing charades of clues in one of six categories. Bible Charades provides an excellent way for families and friends to strengthen their knowledge of God's Word. Simple, versatile rules allow for limitless variations. Includes: 200 boxed topic cards, gameboard, four playing pieces, die, 30 plastic chips, and optional timer. For ages 10 and up.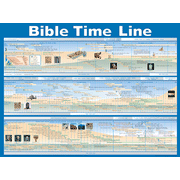 Bible Time Line, Laminated Wall Chart
By Rose Publishing

Bible Time Line shows hundreds of facts in biblical history. Includes dates of kings, prophets, battles, and key events. Compare Bible history, world history, and Middle East history side-by-side. Colorful photos and illustrations. 10 pt. type makes it easy to read. Reproducible worksheets and handouts on the back. Measures 19" x 26" and is laminated for durability.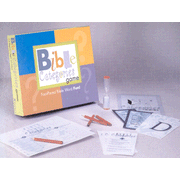 Bible Categories Game
By David C. Cook

Quick! How fast can you name a bird mentioned in Scripture, or a title that identifies Jesus, using the letter "v" in your answers? Find out in this fast-paced word game featuring 300 different categories to help improve your Bible knowledge! Fun for two to four players, ages 12 and up. (By the way, the answers are "dove" and "Savior"!)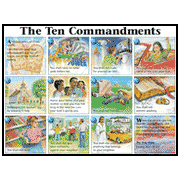 NIV Ten Commandments (pictures), Laminated Wall Chart
By Rose Publishing

The Ten Commandments (New International Version) helps children and youth understand how God's rules apply to their lives. Includes the "promise" about honoring parents that goes with the fifth commandment. The teaching pictures help them understand concepts like "no other gods" and "no graven images." This chart will help students memorize the Ten Commandments, and make the commandments relevant for today. Reproducible worksheets include teaching tips and ways to apply the commandments to your life. Laminated. 19.5" x 26".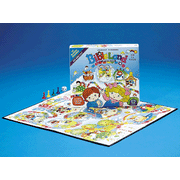 Bible Land Adventure Game
Looking for a game for your 3- to 6-year-olds that's more "nutritious" than Candy Land but just as simple to play? This easy-to-learn game introduces youngsters to exciting Bible stories as players move around the brightly colored board, landing on pictures of biblical events. The object of this game is to be the first player to move from Creation (Start) to Heaven (Finish). Includes 4 colored playing pieces, one 6-sided die, playing board, and an instruction and story sheet. Recommended for 2 to 4 players, ages 3 to 6.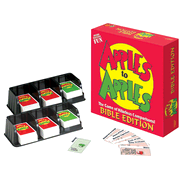 Apples to Apples, Bible Edition Game

Expand your "core" knowledge of Christian history with this hilarious, award-winning game! Apples to Apples ® Bible Edition brings the award winning card and party game, Apples to Apples®, to the Christian community. Players will delight in the clever comparisons while expanding their knowledge of the Bible. Comparing people, places, things, and events, players match their cards with the judge's. The closest match wins the round. But you've got to be fast, because if your card is the last one on the table, you lose! Inside you'll find 432 Red Apple cards, 144 Green Apple cards, 2 card trays and quick play rules. Games are fast--about 20 to 30 minutes per game, and it's an easy game to learn. Recommended for 4 to 10 players, ages 9 and up.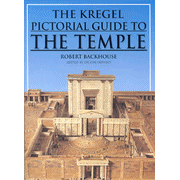 Kregel Pictorial Guide to the Temple
By Robert Backhouse / Kregel Publications

This book follows the history of Jewish worship from its early days in the Tent of Meeting at Mount Sinai to the first temple building constructed by Solomon. The enlargement of the second temple building by Herod and the subsequent history of the temple mount through the modern era are covered in fascinating detail. View excerpts online.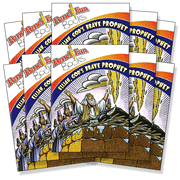 Elijah, God's Brave Prophet, 10-pack
By David C. Cook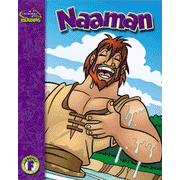 A Reason For Reading, Level F: Naaman
By Concerned Group

Discover the key to reading success with values-based stories that make reading FUN! Little Books help teach kids powerful reading strategies that lead to success.

In Naaman children learn about the man who obeys God's prophet and is miraculously healed through repetitive text and eye-catching illustrations. Level F. Running words: 107. 16 pages.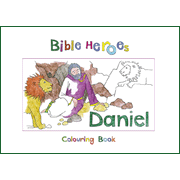 Daniel Colouring Book
This coloring activity book is ideal for the child who is looking for something a little bit more demanding. With the extra detail and block words for coloring in, this book challenges children to develop their hand eye coordination that little bit further. Ideal for Sunday schools and Children's church or for quiet rainy day activities at home. With the example of Daniel who obeyed, followed, loved and trusted in God, this book is an excellent way to introduce children to the human interest stories of the Bible as well as showing God's interest in us. Recommended for ages 6 to 8.
Abraham's Sons
Sodom & Gomorrah
Abraham offers Isaac
Rebekah
Jacob & Esau
Isaac Blesses Jacob
Jacob Marries Leah and Rachel

Joseph's Coat
Potiphar
Joseph Interprets the Butler and Baker's Dreams
Joseph Interprets Pharaoh's Dreams
Joseph's Brothers go to Egypt
Baby Moses
Moses leaves Egypt
Moses and the Burning Bush
God Sends Plagues Upon Egypt
Awesome video by Calvary Baptist Simpsonville dramatizing the entire Exodus/Wandering story.

Crossing the Red Sea
Manna from Heaven
Water from a Rock and Victory from a Rod
Approaching God at Mount Sinai
The Golden Calf
The Ten Commandments
The Tabernacle
Nadab & Abihu / Miriam
The Twelve Spies
Korah Rebels / Moses Sins
The Brazen Serpent
Balaam and the donkey
Moses' Last Days
Rahab
Crossing Jordan
Jericho
Achan
Gibeonites

Joshua's Last Days
First Judges of Israel
Deborah
Gideon
Samson
Ruth
Samuel
Israel Demands a King
The United Kingdom
The Rise and Fall of King Saul David and Goliath David Flees (includes Jonathon) David Spares Saul Saul's End David Becomes King David Brings the Ark to Jerusalem (includes Mephibosheth) David and Bathsheba Absalom's Rebellion David's Last Days Solomon Becomes King (includes request for wisdom) Solomon Builds the Temple Solomon's End
The Divided Kingdom
Elijah the prophet proves Baal false Elijah is fed by ravens Ahab and Jezebel Elisha Good Kings of Israel and Judah: Josiah & Joash Bad Kings of Israel and Judah .pdf take home sheets The Prophets of Israel and Judah .pdf take home sheets Hosea Jonah Daniel Refuses the King's Food Daniel Interprets Dreams .pdf take home sheets Shadrach, Meschach and Abednego Daniel and the Lion's Den .pdf take home sheets Ezekiel .pdf take home sheets Nebuchadnezzar Return to Jerusalem .pdf take home sheets Esther .pdf take home sheets Job