About Me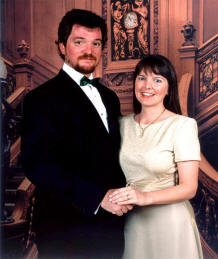 My name is Kim Dailey and I live in Southwest Florida, USA. I have taught Sunday School for over 25 years. This site has been online for over twenty years and has over 150 lessons I've prepared with related activities, graphics, and teaching tips. I have taught workshops for Sunday School Teachers. Read the history of the site.
I own a website design business called Papyrus Document & Design. See my credentials.
Contact me
[email protected]
Papyrus Document & Design, LLC
PO Box 153135
Cape Coral, Fl 33915-3135
(239) 275-2265
Back when the web was becoming accessible, in the mid-90s, I wanted to learn how to make a web page. But I didn't want to just put up a this-is-my-cat kind of site. I was looking for a good idea. At the same time, I was creating my own Sunday School lessons for a small congregation, and was looking online for material that others may have shared. I couldn't find much back then. So it hit me, maybe other people could use the stuff I was creating, and I could learn to build a site at the same time. So I started putting up my lessons, one by one, as I made them. Almost all of the material is from lessons I have taught at local churches.
Just about the time I reached my free server space limit – God arranged for Mr. Terry Taylor of eBibleTeacher to contact me. He provided me with the server space and domain-name benefits I needed. That's when I started including more graphical material. God has blessed me greatly and has provided every need the site has ever required. I now run a home business, which gives me more time to spend on the site, and have been able to provide more services through the site.

What I believe. Many people ask me for a statement of faith, and I understand why. My problem is, I don't like to paraphrase God. I teach scripture - and in teaching children, that tends to avoid the controversial issues that are usually man-made to begin with. I also do not expect users to take the material on the site "on faith" because I seem to believe what you believe. I expect all teachers to review the material, edit it based on the needs of your particular students, and in doing so, you will adjust it as necessary. This site has been used by teachers of many different congregations, primarily because it strives to simply reflect what is in scripture.
I have been in business full time since October, 2002. I am a licensed business in the state of Florida under the name
Papyrus Document & Design, LLC(SunBiz.org), which is a licensed business in the city of Fort Myers and in Lee County, Florida.