Flash Cards:
Books of the Bible
Help students memorize books of the Bible with these Books of the Bible flashcards. Each card has the name of the book in a legible font, with a unique graphic. Use for drills, put-in-order games, concentration, and more. Images match the Bible Trading Cards for consistency.







Purchase PDF to Print:
Half Page Size
Buy and download a pdf of the half page size flashcards to print yourself.
Purchase Pre-Printed Flashcards
Business Card

Half Page

Letter Page

Laser printed on both sides in color on white, business card paper. Order two sets to play concentration with your students. (3.5"x2") English version.
Laser printed on one side in color on lite, white card stock, 8.5" x 5.5" for easy handling. English version.
Laser printed on one side in color on lite, white card stock, 11" x 8.5" for easy class viewing. English version.
Visit our Shop
Visit our Shop
Visit our Shop
Note: In all versions, books like 1, 2 and 3 John are combined onto a single card.
PowerPoint Files

Purchase and Download PowerPoint files with a slide for each book. Great for use with the Books of the Bible Bingo sets and large groups.
How to Use

Great for all ages
Preschoolers can associate the names to the pictures before they can read.
These cards use easy-to-read fonts for beginning readers.
Graphics on the cards match lessons and Trading Cards
Laminate or adhere to magnets
See also: Bingo cards using the same images.
See a list of why these images were chosen for each book
Memorization Games
Lay the cards out on a table in order. Point to each in turn and have the students say the card. Help them learn to pronounce the names correctly. After reviewing all the cards, turn a few random cards over. Review the whole list again, depending on the students to say the names of the over-turned cards. Turn more over each time until the students can repeat the whole set.

Mix up the set and give the class a time limit to get as many in order as possible. Divide the class into teams if you have lots of students and give each team a set.

Adhere the cards to magnets and use a cookie sheet or magnetic white board to put the cards in order.

More memory activities...

Concentration
Make two sets to make a concentration game. Make the students pronounce each name as they turn them over. For older kids, ask students a review question when they find a matching set. To help keep them from seeing through the cards, print the second side (available above).

Review Game contributed by helpful reader Paula
With the books of the Bible cards, after they have been passed out (depending on class size, each student can have at least 3 cards), the teacher can name a book, a story that is found in one of the books, an animal, a place, etc. and whoever has it puts it down on the table. It can be done in teams and the team that gets all cards on the table first wins. Of course, don't give out all the cards and randomly give info.

Print Troubleshooting

Right click on the link and choose "Save Target As..." (IE) or "Save Link As" (Firefox)
to save the file to your computer. Open the copy on your PC and print from there. The cards are laid out to fit on business card sheets 2 across and 5 down, centered vertically with no margin between the cards, on an 8.5"x11" sheet of paper (letter size US). If yours don't fit on the cards, try checking your Adobe Print Settings.

Adobe Reader's Print Dialog Box will often have "Fit to Printer Margins" selected be default under Page Scaling in the section. Change that to "None". Also, make sure "Auto-Rotate and Center" is unchecked. Both of these options can result in Adobe resizing the page, which causes the cards to not fit.


Credits
Thanks to these great volunteers who provided the foreign language translations!
French:
Karen Anzenberger
Spanish:
Tammy Clodgo
Portuguese:
Zoe Peffer
Chinese:
Sofya Yu
Turkish:
Michelle Moore
Also Available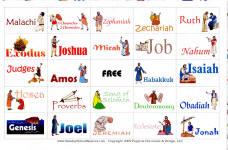 Books of the Bible
Bingo sets and Trading Cards with matching graphics.