Rich Young Ruler
To Remember: We must put God first

Vocabulary
rich: having more than is necessary for life
Lesson
Mark 10:17-27"And when he was gone forth into the way, there came one running, and kneeled to him, and asked him, Good Master, what shall I do that I may inherit eternal life? 18 And Jesus said unto him, Why call thou me good? there is none good but one, that is, God. 19 Thou know the commandments, Do not commit adultery, Do not kill, Do not steal, Do not bear false witness, Defraud not, Honor thy father and mother. 20 And he answered and said unto him, Master, all these have I observed from my youth. 21 Then Jesus beholding him loved him, and said unto him, One thing thou lack: go thy way, sell whatsoever thou hast, and give to the poor, and thou shall have treasure in heaven: and come, take up the cross, and follow me. 22 And he was sad at that saying, and went away grieved: for he had great possessions. 23 And Jesus looked round about, and said unto his disciples, How hardly shall they that have riches enter into the kingdom of God! 24 And the disciples were astonished at his words. But Jesus answered again, and said unto them, Children, how hard is it for them that trust in riches to enter into the kingdom of God! 25 It is easier for a camel to go through the eye of a needle, than for a rich man to enter into the kingdom of God. 26 And they were astonished out of measure, saying among themselves, Who then can be saved? 27 And Jesus looking upon them said, With men it is impossible, but not with God: for with God all things are possible."
The young man in this account went away sorrowful. Why was he sorry? Because Jesus had told him to get rid of the one thing he loved more than God. The man was a righteous man. He obeyed God's law. He wanted eternal life. But he was surprised at the cost - his possessions.

The disciples were also surprised. They, like many people at the time, thought wealth was a sign of approval from God. That the richer a person was, the better, more powerful, more righteous he was. That's why they asked, "Who then can be saved?" But Jesus knew that rich men are tempted to love and trust their wealth more than God. He looked in to this man's heart and saw that the only thing this man loved more than God was his possessions. He would have to learn to love others and not wealth before he could please God.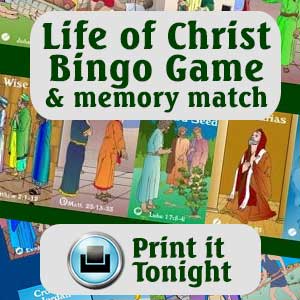 Discussion: Is it sinful to be rich? No. Jesus' command to this man was not a universal command to all men. What all must must do is not have anything we love more than God. This could be popularity, friends, comfort, entertainment, money, or any number of things. Whatever we put first in our life is what we worship. God must be first in our life. This man's idol was wealth. Jesus pointed out to his disciples that money is a great temptation.

Paul said "the love of money is the root of all kinds of evil." 1Tim. 6:10. Paul also explained how the rich should approach their blessings. 1 Timothy 6:17-18 As for those who in the present age are rich, command them not to be haughty, or to set their hopes on the uncertainty of riches, but rather on God who richly provides us with everything for our enjoyment. They are to do good, to be rich in good works, generous, and ready to share. Anything we have can either be used for God or we can put it ahead of God. We must be sure to put God first.

Discussion: What does it mean to be rich? Our definition of rich is not how most of the world, and most of history, defines it. In the Bible, there are three states of being: needy, having just what you need, having more than you need. To be rich is to have more than you need. Those who have more are supposed to share with those that need so that all will have enough. 1Tim. 6:8 "And having food and raiment let us be therewith content." Notice the verse doesn't even mention having a home, much less all the things we often fill our homes with. Luke 9:58 And Jesus said unto him, Foxes have holes, and birds of the air have nests; but the Son of man hath not where to lay his head. If the Lord had no home, no bed, we are blessed to have both. Does this mean we should feel constantly guilty for our blessings? No. We should be grateful for all we have and willing to do God's will with the resources He gives us. As long as we have the right attitude toward our blessings, God will be pleased with us.


See the lessons on the Widow's Mite and Don't Worry, Be Happy for more discussions of trusting in God for physical things.

Sing: I want to be a worker for the Lord

Graphic: Color picture of the rich young ruler walking away from Jesus. Use as a puzzle or illustration.

True or False
It is a sin to be rich. F
God provides everything we have. T
We can spend our money on whatever we want. F
Riches are always a sign God is pleased with someone. F
It is hard to be rich and still please God. T
God knows whether we trust in Him or whether we trust in our money. T
Memory Work:
Matthew 6:24 "No one can serve two masters; for a slave will either hate the one and love the other; or be devoted to one and despise the other. You cannot serve God and wealth."

Mark 12:30 "And thou shalt love the Lord thy God with all thy heart, and with all thy soul, and with all thy mind, and with all thy strength: this is the first commandment."

I Tim. 6:6 "Godliness with contentment is great gain."
Review Questions for gameboard



linguistic questions
Define poverty.
What does it mean to be content?
Recite the memory verse.

activity questions
Draw some of the wonderful things the rich young ruler might have owned.
Count out as many pennies as there are children in the room. Give each child a different amount, with some having none. Have them distribute so that all are equally supplied.
Draw a camel and the eye of a needle. Discuss the impossibility described.

emotion questions
The rich young ruler went away sorrowful instead of angry. What does that tell you about him?
How do you think God feels when we turn to money instead of Him to provide for us?
If Jesus loved the man, why was He so hard on him?

application questions
Why do you think Jesus told the man to give away the money to the poor rather than support His teaching ministry?
We are stewards of our belongings. What is a steward's job?
We many not have lots of money. What other things can we do for others in need?

fact questions
Is it impossible to be rich and go to heaven?
Name two other things that we could love more than God.
Name three of the commandments the young man had kept.

review questions
What was the rich young ruler supposed to do with the proceeds from his goods?
With _____ all things are possible.
Why didn't Jesus have more wealth when He was on earth?