Jesus Blesses the Children

To Remember: We must trust in God our Father to receive the kingdom

Vocabulary
humility: not proud or arrogant, understanding our place before God
Lesson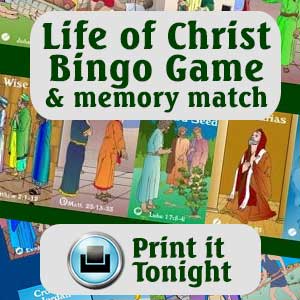 Luke 18:15-17 People were bringing even infants to him that he might touch them; and when the disciples saw it, they sternly ordered them not to do it. But Jesus called for them and said, "Let the little children come to me, and do not stop them; for it is to such as these that the kingdom of God belongs. Truly I tell you, whoever does not receive the kingdom of God as a little child will never enter it."

Matthew 18:1-5 At that time the disciples came to Jesus and asked, " Who is the greatest in the kingdom of heaven?" He called a child, whom he put among the, and said, "Truly I tell you, unless you change and become like children, you will never enter the kingdom of heaven. Whoever becomes humble like this child is the greatest in the kingdom of heaven. Whoever welcomes one such child in my name welcomes me."

While children are the focus of these passages, they are the only people in the story that do and say nothing of themselves. They are brought by their parents, blocked by the disciples, called and welcomed by Jesus. They are simply obedient and humble participants. Jesus said that of all the people involved, we should be like them. We should go where the Father wills, trusting in his love, blessing, and wisdom. Jesus said that without this attitude it is impossible to receive the kingdom. We cannot decide who will enter the kingdom. We can not decide what will happen in the kingdom. We are not in charge. God is. We are to accept Christ's rule as king, obey the laws of the kingdom and honor our fellow-citizens. Like children, we must humbly accept our place and do our best to please the Father.

Discussion: The same traits that make for bad children make for bad citizens of God's kingdom. Discuss behaviors that are not tolerated by our earthly or heavenly fathers.


smaller video .mpg (1.8 mb)
better video .mov (7 mb) better audio
Words
Motions
Jesus said "come to me"
beckon with both arms
The children would run to Jesus
two fingers run across palm
The people around Jesus said stop
hold hand palm out "stop"
But Jesus said "come to me"
beckon with both arms
And the children would run to Jesus
two fingers run across palm
And Jesus would love them.
arms crossed on chest

Discussion: Infants are totally dependent on their parents. Discuss how we are totally dependent on God.

Sing: This is my Father's world

Craft: Have students make crowns from paper. Describe how God has made us all children of the King.

Activity: Play charades. Make up cards with items we need to live. Have students try to act out the items so the other students will guess the word. Discuss how babies can't read, write or talk; and parents have to anticipate their needs. Isn't it wonderful that our heavenly Father always knows our needs, even if we can't adequately express them?

True or False
Jesus said all children will receive the kingdom. F
The disciples wanted money in exchange for blessing children. F
Jesus said the children were perfect. F
We can trust in God to care for us. T
The kingdom of heaven will include arrogant people. F
Memory Work:
Matthew 5:3 Blessed are the poor in spirit, for theirs is the kingdom of heaven.

Romans 8:14 For all who are led by the Spirit of God are children of God.

Matthew 18:4 Whoever becomes humble like this child is the greatest in the kingdom of heaven.
Review Questions for gameboard



linguistic questions
Name 4 of the disciples.
Give an example of humility.
Have each student make as many words as possible in one minute from "little children".

activity questions
Have student lead class in one verse of "Jesus loves the little children".
Have students toss around a beanie baby, ball, etc. The first one to drop it must recite the memory verse.
Have student act out the difference between a humble and an arrogant man or woman.

emotion questions
How did the disciples feel about the parents bringing their children to Jesus?
How do you think the children must have felt when Jesus said everyone should be like them?
How would you have felt if someone tried to keep you from Jesus?

application questions
The parents brought their greatest treasure to Jesus. What do we take to Jesus for blessing?
What attributes of children should we keep in relationship to God?
Is Jesus saying we should never grow up?
Give an example of false humility.

fact questions
Who brought the children to Jesus?
What were the disciples arguing about?
What did Jesus do to the children?

review questions
Why did the disciples try to stop the parents?
What attributes do you think the disciples thought were needed in the kingdom?
Why does God want us to depend on Him?