Learning Styles in Sunday School
Learning Styles
"God has given each of us the ability to do certain things well."
Romans 12:6a NLT
Multiple Talents = Multiple Ways to Learn
There are many ways to learn

We all learn in each of those ways

We each have some stronger and some weaker learning styles

These styles are not mutually exclusive

We can practice a style that is not our strength to improve it

We can weaken a style by ignoring it or having it squelched

These are artificial categories to help us see ways that personalities differ
Win-Win Situation
Helps each student learn

Helps reinforce the lesson in different ways

Helps develop their weaker styles

Helps us prepare the lesson

More fun!
Incorporating Styles
Linguistic
Good At:

Writing

Verbal Expression

Nuance of Meaning

Enjoys:

Words

Reading

Storytelling

Writing

Learns By:

Prevent Problems:
Logical - Mathematical
Good At:

Problem-solving

Math

Reasoning

Enjoys:

Patterns

Numbers

Relationships

Prevent Problems:

Acknowledge right or wrong answers

Dont discourage students from "pigeon-holing" some concepts or people, they are probably not being prejudiced
Musical
Good At:

Enjoys:

Sounds

Rhythm

Melody

Singing

Prevent Problems:

Channel sound-making to the benefit of the lesson

Have them create tunes

Allow some variations to the "norm"
Visual / Spatial
Good At:

Mapping

Charting

Sculpting

Modeling

Enjoys:

Drawing

Building

Designing

Visualizing

Prevent Problems:

Visual Aids

Use color to differentiate

Use 3D Objects

Dont require them to sit still all through class
Extroverted
Good At:

Empathizing

Leading

Communicating

Negotiating

Enjoys:

Interacting

Talking

Teams

Imagining Another
Introverted
Good At:

Self-analysis

Introspection

Application

Feelings

Enjoys:

Working alone

Quietness

Independent work

Prevent Problems

Channel the extroverts

Monitor Noise

Give choices between group and individual work

Give them time to process information
Credits
Much of the material presented here was taught by Dr. Vickie Owens and presented in 1994 to the Southside church of Christ teachers.

Revised and Presented by Kim Dailey 4/23/05
SundaySchoolSources.com averages 7,000+ pageviews daily from teachers all over the world
Kim Dailey, kim@eBibleTeacher.com
Bible Resource Center
http://www.bibleresourcecenter.org/
vsItemDisplay.dsp&objectID=AA8342E1-D1D8-429D-BCA52728296189BF&method=display
Short, one page description of various learning styles.
Assemblies of God
http://sundayschool.ag.org/LIFE/LearningStyles.pdf
Five page description with self-diagnostic questions to help you determine your learning style
Available from Christian Book Dist.
Bible Brainstorm Game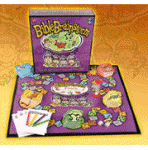 Leveling the playing field, this board game encourages all players to use their unique God-given strengths and abilities---music, word puzzles, drawing, trivia, and charades---to win. Combining five favorite games in one, it reinforces teamwork while also teaching kids about Bible events and characters. Ages 8 to adult.